For the first time since February I'm feeling optimistic about Storytel again – MW
---
When Storytel's co-founding CEO Jonas Tellander "stepped down" earlier this year, it was the end of an era. Storytel, led by Tellander, had shown the world that not only could audiobook subscription work, but that it could work everywhere.
But not as quickly as the shareholders wanted. In February 2022 the Tellander Doctrine came to an abrupt end. Building out international expansion, one market at a time, was no longer the way forward. Rather it was cost-cutting, staff dumping and a focus on a handful of core markets that could keep the shareholders happy.
It didn't work. Storytel's Acting CEO Ingrid Bojner had her hands tied. She had no room to strategise and meanwhile Storytel's value plummeted – just the opposite of the bright idea to dump Tellander and focus on profitable markets, led by the newly acquired entrance into the US market which Tellander himself had brought about.
For Bojner the timing could not have been worse. Russia invaded Ukraine and Storytel had to abandon a key market, with substantial losses. Around the world consumers starting counting their pennies. For some, audiobooks became a luxury, and of course that can only continue as we head into a global recession amid a global climate crisis and a global supply chain crisis that will take us well into 2023 before we can even think about light at the end of that tunnel.
But someone at Storytel had enough vision to see a way forward, and that way forward – if we accept the Tellander era can not be revived in the current economic climate even if the will was there – lies in following the SVOD model of core market focus alongside truly global reach.
Look at Netflix, or Amazon Prime, Disney+ or indeed HBO Max International, whence the new CEO Johannes Larcher comes.
Per the Storytel press release, Larcher,
Planned and led the launch of HBO Max in 60 countries across Latin America and Europe and was responsible for the management of WarnerBros. Discovery's flagship direct-to-consumer streaming service and its more than 28 million subscribers outside the United States.
Storytel's subscriber number is around 2 million, not that that's a fair comparison. Video and audiobook streaming are different planets, and no-one should for even one second imagine Larcher suddenly ratcheting up Storytel's subscriber numbers to rival the big SVOD operators.
But what Larcher brings to the table is Jonas Tellander's international vision combined with BookBeat CEO Niclas Sandin's modus operandi.
The Tellander model looked to expand into new markets by either virgin expansion or by acquisition of existing operations, but each time focusing on the market to deliver localised content. Each market had a target five-year break-even point, but many were slower – only a few faster – and that got up shareholders noses. Especially when Tellander started looking at seriously long-term projects like India and Indonesia – each with huge populations and huge returns down the road, but very little short-term cashflow, let alone profits.
As Tellander was ousted in February Storytel had expanded to 26 markets, if we include the USA, which isn't listed on the Storytel international page.
And it may well be we have to keep Audiobooks.com to one side for this discussion of Storytel's future, because US publishers will stampede if Storytel were ever to try offering the unlimited subscription model that defines the other 25 Storytel markets.
Audiobooks.com will be a valuable contributor to Storytel's bottom line, but the credit model is not the future of subscription and not the future of Storytel. Metred-access might be, if the BookBeat experiment proves successful.
Read the press release for all the Board changes as Larcher takes over, but let me single out one new Board member as of special interest here:
Lina Brouneus is currently, per press release, Director Film Acquisition EMEA at Netflix and was,

instrumental to building out Netflix's presence and team across Europe, the Middle East and Africa.
In Larcher and Brouneus we have, pretty much, the likely future of Storytel identified.
And just maybe, as the economic climate swings wildly away from that favoured by the Tellander Doctrine, the Larcher Doctrine will prove more stable in the new environment.
Of course we don't know just what Larcher himself has planned, and my speculation could be completely off the mark, but here's how I see Storytel's strategy developing.
First, take a look at Netflix and Amazon Prime, and for a moment set aside the media nonsense about Netflix being about to croak, as vigorously dismissed here:
In 2016 Netflix had reached 60 countries. More than double Storytel's reach even today.
Then Netflix went global. Truly global. This is Netflix reach today: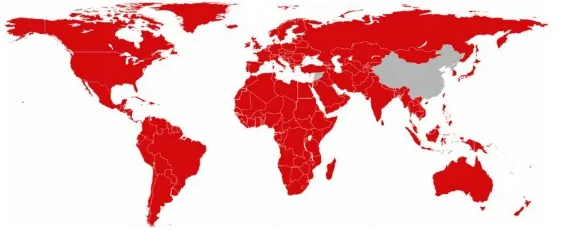 Over 190 countries. Only China, North Korea, Syria and Cuba appear to be holding out.
And it's a similar story for Amazon Prime Video. While Jeff Bezos lost interest in ebooks and audiobooks, Prime Video went global too, and pretty much an identical footprint, although Netflix is globally by far the better known.
Of course we now see Disney+ rising, and any number of rival outfits chasing its tail, including HBO Max International where, as mentioned above, Larcher personally took the operation into 60 new countries.
Lina Brouneus meanwhile has helped Netflix EMEA expansion. That's Europe – Middle East – Africa, where Storytel already is seeing some action, although thus far the Africa footprint is only Egypt. I can't be sure but would imagine Brouneus was involved in the Netflix Nigeria expansion two years ago.
Neither Brousneus nor Larcher have history with audiobooks, or indeed digital books generally, but of course a digital file is a digital file. Geographical barriers are easily surmounted if the will, and the content, is there, as the video streamers are showing us time and again.
And as Niclas Sandin is showing us with BookBeat.
Rivals Storytel (under Tellander) and Nextory have focussed on the one-market approach, building out by investment and acquisition, but one market at a time.
Sandin had a different vision. He chose to offer BookBeat pretty much Europe-wide, simultaneously focusing on core markets while identifying interest elsewhere. And very recently – sorry, no internet to cover this in TNPS at the time, will try rectify soon – BookBeat adjusted its consumer model to metred access.
BookBeat of course is part of the Bonnier stable, so Sandin possibly has his hands tied in terms of where he can expand, and it may be Bonnier's decision not to venture from beneath the comfort blanket of Europe.
But what Sandin has shown us is that the model can and does work. Sandin's BookBeat expansion of late has focussed on building on proven interest, as witness the Belgium and Netherlands country launches in February of this year. That took BookBeat to ten active markets – Sweden, Norway, Finland, Denmark, Germany, Poland, Austria, Switzerland, Belgium, Netherlands, one treading water (UK), and seventeen more European markets where BookBeat can be accessed but with no local content.
On paper BookBeat's 28 markets means it has bigger geographical reach than Storytel, but I'd wager not for much longer.
Expanded reach, after all, is what Larcher and Brouneus specialised in, and my guess it is this expertise that finds them running the Storytel show today.
Will we see Storytel expand globally with a soft presence as BookBeat has in Europe and as many video streamer have worldwide?
Or that Spotify is on the way to doing?
And mentioning Spotify brings us neatly to the sixty-four gazillion dollar question that rounds off this essay – is Storytel being lined up for acquisition by Spotify?
Daniel Ek has made no secret of his plans for Spotify to invade the global audiobook arena. Storytel shareholders made plain in February that they are in this for the cash, not the culture.
But early days. I suspect Ek will be happy to let Storytel do the donkey work before seriously looking at bidding to acquire Storytel, but I'd be very surprised if it is not on the agenda in the not too distant future.