Now this is exactly why we need to hand over that $2,900 this very instant. This is seriously, seriously good value for money. Whoever knew Good Ereader, the digital books blog, was secretly a TOP KEY PLAYER (in capitals, so it must be true!) in the Industrial Audiobook Market?
---
There are two things worse than receiving emails from those confounded publishing industry research reports that promise unparalleled insights into the trade – intelligence, they call it – that actually tell you less than nothing, and that will set you back just shy of three grand but aren't worth three cents.
One is being contacted by these outfits and offered a couple of hundred bucks for an hour-long phone call so they can skim off a few realistic company names and throw in a handful of verifiable figures and attribute an "expert" to add credibility to an otherwise worthless report, or worse still ask me to endorse a report that has no relation to reality.
Now $200 would go a long way to supporting my school project here in The Gambia, so no denying I've been tempted. But I do have a moral compass, and helping a scam outfit rip off gullible wannabe players in the publishing industry is a line I won't cross, not even for $2 million. (That said, if you've got two million spare and want to test my resolve… 🙂 )
Second is seeing otherwise rational and well-intentioned industry commentators citing and linking to these scam reports as if they are authoritative and well-researched and therefore reliable sources.
I'm not going to embarrass anyone on the latter point by linking to examples of citing this rubbish (or rather, citing from the impressively written press releases that hype up this rubbish), and will instead here focus on and identify in detail one recent (July 13 2022) example of the kind of deceitful ploys being used to lighten the bank accounts of aspiring publishing industry entrants.
Audiobook industry aspirants for example.
Audiobooks are of course hot news nowadays, and for anyone with a hankering to get a slice of the publishing industry action this sector is a logical choice. And as luck would have it a perfect example of the sort of scam I'm talking about arrived in my inbox this past week.
Its title?
Constipation Market Share, Size Global Key Trends, Industry Demand, Key Findings, Regional Analysis, Growth Factors, Key Players Profiles, Future Prospects and Forecasts to 2029.
Okay, I lie. I lie to the extent that the title included the word Constipation. Replace that word with Audiobook and you have the report in question.
But to be clear, that's exactly what this outfit did: It replaced the word Constipation with the word Audiobook.
You see, this outfit prepares industry intelligence reports on a conveyor belt, on anything from Constipation or Audiobooks to Bag In Box Packaging to Tumor Markers to Air Pollution Control Systems for Hydrocarbon Fired Sources to Resin Coated Proppant to MRD (Minimal Residual Disease) Testing. Or maybe our interest is in the Global Mobile Small Home Market or the Global Furniture Wood Coatings Market, or…
Each report, costing anything from $2,900 to $3,450, follows a pretty much identical format using, for variety, a couple of template where names, numbers and references can be slotted in to impress some poor unsuspecting soul who wants to get a foothold in that particular industry and has more money than sense.
I say this with confidence not just because I've looked at the press release examples for these and similar reports, and downloaded the free samples where available, but because in the case of the Audiobook market report today under scrutiny some idiot was using the same template they'd previously used for a report on the Constipation market.
And – whoops! – they should have used a global edit instead of changing each word manually, because they missed one:

Market Analysis and Insights:

The global Constipation market size is projected to reach USD million by 2029, from USD million in 2022, at a CAGR during 2022-2029.
The actual values of course are routinely kept out of the press release in the hope someone will be intrigued enough to fork over $2,900 to get the actual report.
But the press release is about as good as it gets, and even here the standard of English is a loud alarm bell warning of what to expect. The actual location of this outfit is well hidden.
The summary sounds impressive, and almost readable:
Audiobooks Market Share, Size Global Key Trends, Industry Demand, Key Findings, Regional Analysis, Growth Factors, Key Players Profiles, Future Prospects and Forecasts to 2029.
What's not to like? But it's all downhill from here:
Audiobooks market includes supply and demand analysis, concentration rate of raw materials, manufacturing process analysis, competitive landscape, application and specification forecast till 2029.
Ah yes, where would be without knowing the concentration rate of raw materials in the audiobook market?
But we can forgive them that small lapse, right, because what's on offer here is just too good to miss:
A cost-effective market report that deliver top-notch insights into the Industrial Audiobooks Market.
Cost-effective? Top-notch? This is dynamite! But wait, the Industrial Audiobook Market? As opposed to the Agricultural Audiobook Market, presumably. But let's not quibble over semantics, After all this report,
…Also applies both primary and secondary research methodologies to identify new opportunities for development for the Industrial Audiobooks market during the estimated forecast period, the research further analyses data and screens data on the market growth rate, share and size to enable product owners, stakeholders and field marketing executives identify the challenges in the market. Moreover, the research study also highlights an industry-wide summary of the Industrial Audiobooks market including drivers, constraints, technological advancements, limitations, growth strategies, growth prospects and others.
Don't be fooled by the lousy English. This outfit has phone numbers for both the UK and US, so must be legit.

What, you still aren't ready to open your wallet and hand over $2,900? Wait, there's more:
Audiobooks Market Report learn about offers the scope of exclusive segments and functions that can probably have an effect on the enterprise in the future. Pricing evaluation is blanketed in this record in accordance to every type, manufacturer, regional analysis, price.
Okay, I'm sold. Blanketed price evaluation? In accordance to every type, manufacturer, regional analysis, price? This is beyond my wildest dreams! Where do I input my credit card details?
But wait, there's still more!
Industrial Audiobook Market report can even tell us who are the key players in the audiobook market today.
And not just the key players, but the TOP KEY PLAYERS, in capitals. Wow! This is information money simply cannot buy. Oh, sorry yes it can. So long as you have $2,900 to spare. If you haven't, borrow it, for God's sake! Then you too can know who the TOP KEY PLAYERS are.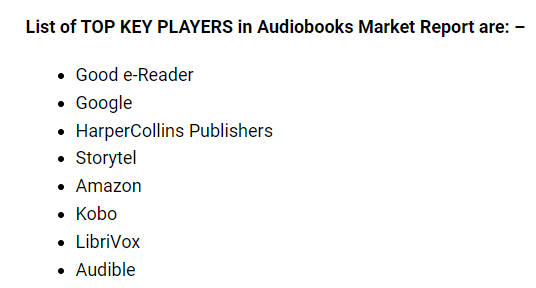 List of TOP KEY PLAYERS in Audiobooks Market Report are:

• Good e-Reader

• Google

• HarperCollins Publishers

• Storytel

• Amazon

• Kobo

• LibriVox

• Audible
Now this is exactly why we need to hand over that $2,900 this very instant. This is seriously, seriously good value for money. Whoever knew Good Ereader, the digital books blog, was secretly a TOP KEY PLAYER (in capitals, so it must be true!) in the Industrial Audiobook Market?
Who knew Amazon and Audible were separate companies?
And who knew the wonderful Librivox was not just recording public domain titles with volunteers but was actually also a TOP KEY PLAYER (again in capitals) in the Industrial Audiobook Market?
The report goes on:
The latest study on the Audiobooks market published by research offers a deep understanding of the various market dynamics such as the challenges, drivers, trends, and opportunities. The report further elaborates on the micro and macro-economic factors that are expected to shape the growth of the Audiobooks market during the forecast period (2022-2028).
2028 of course being very close to the 2029 in the report title. About one keystroke close in fact. And yes, my TNPS reports often have typos too, but then, I'm not charging $2,900 for them.
And I do not use a template to write my reports and posts, and then change a few keywords and pass it off as meaningful intelligence. This outfit does. The Constipation market, remember?
So not only do they not write, research or craft their reports but they do not proofread them either. Not even enough to spot they'd left in Constipation from the Industrial Constipation Market report they knocked together earlier that day.
Or maybe it was Freudian slip and they are actually telling us these reports are bulls**t?
Because bulls**t is exactly what these reports are.
More examples? Okay, if you insist:

On the basis of product type, the Audiobooks market is primarily split into

• Adults

• Kids
As opposed to dogs, cats and donkeys, presumably. But hey, if you're new to this game and looking to invest a half million then this is invaluable stuff! Adults and kids! Who'd have thunk it? That's $2,900 well spent!
Especially as we also get told that:

On the basis of end-users/application, this report covers the following segments

• School

• Personal

• Book Club
School, personal and book club? With this kind of unparalleled insight we can take the global audio market by storm and easily recoup the paltry three grand being asked.
Check out the full press release here.
I of course haven't seen – and have no desire to see – the full report, but typically these run to over 100 pages and as you can see from the Table of Contents (far too long to copy here) it looks remarkably impressive if you can forgive the Third Grade English-as-a-fifth-language eloquence.
But as you can surmise from the information they chose to share (which of course is the "best bits" to sell the product), the content will be utterly meaningless.
Market intelligence reports are important, of course, but as a rule of thumb one should only take notice of reports that are produced by people or companies that you know operate within the industry and that have some inkling of what the industry is about and can demonstrate they at least know who the key players are.
The internet is a wonderful thing, but it takes more than an hour-long phone call with an "expert" and ten minutes on Google to produce a market report worth even three cents, let alone three grand.
---
Let me finish on a personal note.
Some regard me as an "expert" on the industry (not my words) and yes I count being an industry consultant among my resume highlights, but I do not offer my insights to operations like these, and have turned down more request than I'd care to keep count of from similar outfits.
I must add here that I have of course also been approached by genuine parties with a genuine interest in the industry and I thank them for their interest, and I do try assist when I can.
But as regular readers will know, my insights and background knowledge are free to anyone on the e-pages of TNPS. Yes, on the very rare occasion that time, the internet and health are working in my favour (not often this year, sadly) I do "consult" – usually in the form of answering a few industry-related questions, referring to past TNPS posts on the topic, and digging up extra data as required.
In return I ask for a donation to my Children First school project, nothing more.
TNPS is and will remain a free service for the publishing industry, and you can always be assured the content, while you may sometimes disagree with the viewpoints, is well-researched by someone deeply engaged with and passionate about the industry, and that it will be honestly presented with no hidden agenda, no affiliate links, no advertising and no upsell.
A lot of TNPS readers ask me about the school's project and I'll try put together something over the summer school break, but until then here's an insight from way back last year:
Meantime if anyone wants to show their appreciation for the TNPS reportage, or just wants to give to a very worthy cause, donations can be made by bank transfer per detail on this page, where again you can learn a little more about the school. We'll try add some other payment options ASAP.
If you do donate, please drop an email (info@thenewpublishingstandard.com) and let me know who you are so the children can thank you directly.
And if you are a teacher or parent or otherwise have a connection with schools where you are, we'd love to connect Children First with schools around the world, to exchange perspectives and let the Gambian children e-meet friends in other countries.