The 50th National Book Fair and the 20th Bangkok International Book Fair are still underway in Thailand.
Meanwhile wrapping up today (Sunday) is the Big Bad Wolf Bangkok event.
Given on-going Covid-19 restrictions we are unlikely to see records broken at either event, but it's clear 2022 is the year of the big book fair come-back.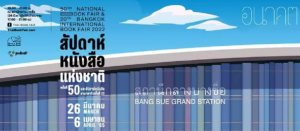 Elsewhere the Algiers International Book Fair has just finished, attracting an in-person crowd of 1.3 million.