In the publishing industry there are a handful of people who stand head and shoulders above the rest, that have really made their mark on publishing at home and on a global scale, at an unprecedented level. Among them Jonas Tellander, Storytel CEO 2005-2022, without whom the global audiobook industry beyond Audible would not exist. Jonas Tellander is still alive and well, but RIP the Tellander vision.
---
The big question TNPS won't be offering answers to today is, "Was he pushed or did he jump?" Jonas Tellander, that is, co-founder and iconic CEO of Storytel, who has stepped down from stewardship of the company, but remains part of the team.
In a press release Tellander said simply,
It's time for new leadership at Storytel, seventeen years of full focus on Storytel has taken its toll. The team is now stronger than ever and will, under Ingrid's leadership, take big steps this year. Personally, after a little time off, I look forward to continuing to create value in Storytel as an owner and Board member.
While every bit as unthinkable as Jeff Bezos stepping down from Amazon's top position, that at least happened with plenty of notice and clearly on Bezos's own terms.
By contrast Jonas Tellander announced on Thursday he would be stepping down, and on Friday, as the End of Year Report was made public, he took a back seat on the Storytel board.
The Swedish media has mixed opinions, but the consensus as best auto-translated is that he stepped down under pressure.
So, pushed or jumped? He's not saying, and likely it was an element of both, but that's really neither here nor there. Jonas can take care of himself just fine, and here at TNPS we wish him all the best in his new role.
But what we can say for sure is that Tellander's vision for Storytel is no more, unless Tellander can do a Steve Jobs style resurrection and re-emerge at the helm of Storytel somewhere down the road. But by then the damage will have been done. Without Jonas Tellander, Storytel is not the same animal.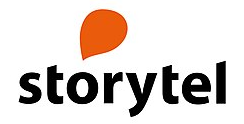 So before looking at the bigger picture here let's acknowledge what Jonas Tellander has been: a visionary leader that has changed the global audio publishing landscape beyond recognition and, given the chance, would likely have brought to fruition his 2023 vision of a global audiobook streaming service (ebooks have only ever been a sideshow for Storytel) straddling 40 or more markets across six continents.
Now, we can safely assume, that is not going to happen. And that has ramifications for the wider global publishing industry as well as for Storytel, as TNPS will try address here.
First off to say that, while Tellander's departure is a big surprise to TNPS, the reasons behind it are not.
It was way back in April 2020 that TNPS first warned of headwinds ahead for Storytel, and a year later in April 2021 we felt compelled to spell that out more clearly:
(This is just one) example of the sort of headwinds Storytel will increasingly face in the emerging markets as this decade unfurls, that will, if not derail, at least act as a brake on the runaway train that is Storytel.
In November 2021 as the Q3 results were announced TNPS returned once more to the topic of headwinds.
Tellander has long said he expects new markets to take five years to break even, but even so there was a hint of apologia in the Interim Report's explanation that only four markets outside the Nordics – Russia, Poland, Netherlands and Turkey – were topping 100,000 subscribers.

And to rub salt into the wound Tellander had to announce that the much-vaunted partnership with Spotify, planned to happen in Q3, will now happen sometime in the first half of 2022.
The Q4 results brought more of the same. Targets that, a year prior, were like shooting fish in a barrel, but were now suddenly becoming real challenges.
Yet even mid-2021 the TNPS-alluded headwinds still seemed distant, with Storytel seemingly predictable and Tellander untouchable.
This from TNPS in July after the Q2 results:
The quarterly reports from the Nordic book streamers are in danger of becoming, if never boring, as predictable as the former Soviet Union's election results. Yesterday we saw BookBeat's Q2 latest, and today we have the Q2 updates from Nextory and Storytel, and surprise, surprise, there are no surprises.
Yet here we are in February 2022 and Tellander is out, and there is a big question mark over Storytel's future direction and even, potentially, some of its operations.
At which point, before moving on, one more historic reference from past TNPS analysis, again referencing the Q3 2021 results:
For the longest while it seemed like everything Jonas Tellander touched turned to gold, but this week some investors were spooked by the arguable misses described in the January-September Interim Report, and more misses being lined up for Q4.

Is Storytel in trouble? Not a bit of it. The headwinds were entirely predictable, and, dare I say it – predicted:

But there's nothing here to worry about unless, as a public company, you have chancer investors buying in short term for the ride that play the markets like a candle in the wind.

Storytel's core investors are solid and understand Tellander's vision, so stock jitters are neither here nor there. Just ask Amazon.
Hmmm. "Chancer investors buying in short term for the ride that play the markets like a candle in the wind." And just maybe there were not as many solid core investors behind Storytel as TNPS thought.
And that seems to lie at the heart of the 2022 upset. When Tellander took Storytel public it was a risk, not so much for the company, as for him. The new money was an obvious positive, but once you relinquish control of the Board to outside forces the company vision is compromised.
Of course so long as the Tellander Midas touch continued, investors were happy, and the Pandemic was an unexpected bonus for the money people, boosting interest in subscription.
And Tellander rose to the occasion with admiral ambition and vision, always with the five-year break-even strategy for new markets. But that may be part of the problem, because new markets are not created equal, and even if the investors had understood the five year caveat there was every chance the newer Storytel launches in emerging and virgin markets might need more than five years.
Likewise even if the investors understood at the time that Storytel would continue to make loses for the foreseeable future because of the new markets being lined up, some were no doubt looking to cut and run early, and the continuing expansion plans Tellander announced would have spooked this group.
Then of course came the cold realities of what we can loosely term post-Pandemic reality (loosely because the plague is far from over, but societies have largely learned to live with it).
People returned to work and had less time to stream audio.
Disposable income was not keeping pace with consumer options – just how many subscription packages can one family afford?
And emerging markets – already the least likely to meet the five year break even targets – had been hit hardest by Covid, and by other unforeseen events (banking issues in India, for example) as was acknowledged in the Q3 and Q4 2022 reports where the strain was beginning to show in Storytel's Latin America and India projects.
Storytel had also lined up 50,000 new free-subscriber trials in the Middle East, and while many might convert to paying subscribers the MENA markets are still very nascent and needing a lot more money going in than is coming out.
For the yet to launch Storytel Indonesia doubly so. Storytel ID is a classic example of the Tellander vision confronting investor reality. Initially scheduled to launch in late 2021, Storytel Indonesia was, as last advised by Country Manager Indriani Widyasari, set to launch in Q1 this year.
A country of 270 million people, 212 million of whom are online, Indonesia is a virgin audiobook market that epitomised the Tellander vision. One hopes that with so much already pumped into the project, Storytel Indonesia will be allowed to launch this quarter per plan, but it's likely we'll see very few more like it.
Because the losses during Q4 2021, and the total losses across 2021 and prior, seem to have spooked Storytel's investors once too often.
Okay, so Q4 2021 saw a loss of SEK 78.2 million, contrasted with just SEK 22.8 million in Q4 2020.
But, let's remember these new markets cost money to launch in, and as clearly stated by Tellander, are not expected to break even before five years. Let's remember too that Tellander's last big deal of 2021, and of his leadership, was the acquisition of Audiobooks.com and entrance into the US market.
This is a hugely important strategic move for Storytel that some investors are evidently not seeing the value of, and one more example of the problem in going public. As a private company investors came to Storytel because they believed in the project and believed in Jonas Tellander. They are still there, of course, but as a public company, with new investors buying into the stock, not the project, the dynamic changes, often for the better, but with inherent risks Tellander has just fallen foul of.
So yes, Storytel missed and revised targets in 2021, but that's the history of most successful companies. Need I mention Amazon, which made taking a loss (to expand and build consumer loyalty) a singular and ultimately hugely successful aspect of its growth strategy.
And let's remember that, missed targets or not, Q4 2021 revenue hit SEK 863 million, compared with SEK 751 million in 2020. Subscribers were up 24% on Q4 2020 70 1.7 million.
The problem being Tellander had forecast 2 million subscribers by end 2021.
Never mind the strains Covid put on consumers in Latin America and India. Stock market investors, as opposed to project investors, don't care for reasons, let alone want to hear excuses. They bet on 2 million subscribers and Storytel fell short. Forecasts were revised downwards. Jonas Tellander pays the price.
Oh, and that partnership with Spotify that never came to pass in 2021? Another missed target, now said to be "under review", with the implication it may now never happen, although to be clear the issue seems to be at Spotify's end, not Storytel's.
Moving forward, the Storytel 2021 annual report says, there won't be any subscriber targets, which will have the benefit of not having to admit missed targets, but also the downside of not being able to report targets exceeded. The decision to not supply targets hereon suggest further headwinds are expected.
Last year as the 2021 Interim Report was issued TNPS said:
For all the headwinds this quarter, Storytel remains in a league of its own, navigating uncharted waters, and boldly going where no audio-focussed subscription service has gone before.
That voyage has almost certainly come to an end. Ingrid Bojner, who will act as interim CEO and may possibly assume the post full-time, will be wary of being too adventurous.
The 2021 review is in stark contrast to the ambition and optimism that marked the 2020 report, just before the Pandemic arrived.
The contrast is so stark as to be a reversal, and one it is hard to imagine Tellander being comfortable with.
But the focus on mature markets was inevitable, as per past TNPS analysis. Nextory and BookBeat were both chasing Storytel's lead in many European markets, and quarter after quarter after quarter Storytel, BookBeat and Nextory would announce huge percentage leaps in revenue and subscriber numbers such that, while nowhere near saturating these markets, was one more headwind they all had to battle against.
But most significant perhaps is the fact that only Storytel, of the Big 3 Scandinavian audiobook players, has (as legally obliged) published its Q4 2021 results.
Nextory and BookBeat, at the exact same time Storytel reports what are at best mediocre numbers, have both uncharacteristically chosen to remain silent, leading us to conclude they have nothing to shout about this time around.
Has the tide finally turned for digital audio subscription? Yes and no.
Storytel US (and potentially other English-language markets like UK and Australia where Audiobooks.com has a following) will revive Storytel's financial fortunes, while the focus on mature European markets (and by implication steering funds away from existing emerging markets and cancelling new launch plans) will help keep the stock investors happy, although the serious investors who backed Tellander's vision may be less impressed.
We fervently hope Storytel Indonesia will go live this quarter, as preparations are well advanced. But for the rest of the world it looks like Storytel expansion will be on indefinite hold.
And given neither BookBeat nor Nextory has pursued any goals outside safe European opportunities thus far it is unlikely either will be chasing any emerging markets this year, or even this decade.
While this will leave the door open for new upstart start-ups to make hay in the virgin markets, perhaps led by operations backed by Beat Technology, which most recently is behind new ventures in Romania and Greece, it looks very much like the global audiobook boom is on pause.
One cause for joy, although perhaps not for Storytel India, is that Amazon's Audible is seeking to expand its Hindi audio offerings, with hints (only hints) it may even be looking at other Indian languages. More on that in a dedicated TNPS post if the West Africa internet gods are amenable. Here just to note that Storytel putting its India operation on the backburner, as it likely will (India has the lowest subscription price of any Storytel market) will let Amazon dominate the Indian audiobook market in the same way it does the Indian ebook market.
For the emerging markets, including MENA and SE Asia, this is bad news for both consumers and the industry. For Storytel's mature markets it's probably good for the consumers, but a price war between Storytel, Nextory and BookBeat will do publishers few favours, while the head-to-head between Audible, Scribd and Storytel in the US will again benefit consumers far more than publishers and authors.
And that's before Spotify gets in on the act with its Findaway acquisition.
The future is still bright for global audio, and for Storytel, but not as bright as it was in 2021.
In the publishing industry there are only a handful of people who stand head and shoulders above the rest, that have really made their mark on publishing at home and on a global scale, and at an unprecedented level.
Among them Jeff Bezos, of course. Whatever we may think of Amazon, its impact on the publishing industry in numerous countries has been immeasurable, and more good than bad.
We must also include here Bodour Al Qasimi, who has single-handedly changed the global publishing dynamic as President of the IPA.
And of course Jonas Tellander, Storytel CEO 2005-2022, without whom the global audiobook industry beyond Audible would not exist.
Jonas Tellander is still alive and well, but RIP the Tellander vision.