So many stories of interest to the publishing industry cross my desk every day that make a tweet on the TNPS timeline or a reference on LinkedIn, but that there simply isn't time to develop as a story for TNPS. Here's a round-up of some such key stories that caught my eye this week.
---
Is Metaverse Advertising The Next Big Thing?
What's New In Publishing is about the news publishing industry, but so much of what appears there has relevance to the book publishing industry. Take this post about the rise and rise of the Metaverse.
The Fortnite-based Travis Scott's online concert in April 2021 brought together over 10 million virtual attendees. And this huge audience can and should be monetized. Such an idea lies at the core of metaverse advertising, which as many experts agree, is one of the most vivid emerging online ad trends for 2022.
Read more here.
---
Digital Narration With AI Voices With Taylan From DeepZen
The Creative Penn is a website that flirts on the boundary of the self-publishing and traditional publishing worlds, and so is much overlooked by mainstream publishers wedded to the idea that the "indie" community is an unimportant sideshow.
But indie innovators and futurists like "authorpreneur" Joanna Penn often help shine a light on the potential of new developments in publishing that mainstream publishers are too pre-occupied to see.
This week Joanna Penn's weekly podcast (#589! – Penn is no joanna-come-lately to the audio scene!) talks with Taylan Kamis from DeepZen, one of many AI audio narration projects that are changing the way we think about audiobooks.
Is digital narration with AI voices good enough for non-fiction or fiction audiobooks? Can human narrators benefit through voice licensing? What are the options for sales and distribution?

Taylan Kamis , CEO of DeepZen explains digital narration for audiobooks, and (Joanna Penn) share some samples from (her) digitally narrated books through Deep Zen.
Read (and listen) to more here.
---
Publishers "continue to go from strength to strength": Highlights from FIPP's Global Digital Subscription Snapshot Q3
Again from What's New In Publishing, this item about the rise of subscription offers book publishers further insights into what consumers want. Some book publishers understand that putting the consumer first is a recipe for better revenues and profits, others not so much.
Digital publishing revenue in the UK across B2C and B2B markets was up 31.9% YoY in Q1 of 2021, according to a report by the Association of Online Publishers (AOP) and Deloitte. This growth is driven primarily by digital subscription revenue which was up 48% YoY. Overall, the value of subscription revenue for both B2C and B2B publishers had grown to £123M in total by the end of March 2021.
Read more here.
---
Best Romantic Urdu Novels 2022 by Pakistani Novelists
Full disclosure: I can't read Urdu and don't read many romance novels, although I have been seen with the occasional Sophie Kinsella rom-com in the distant past before ereaders became a thing.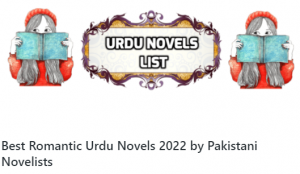 But the romance market always fascinates me, and how much more so in distant lands, so when I saw this post about romance novels by Pakistani authors writing in Urdu I just had to find time to read up.
But as this excerpt shows, romance writing is less embracing and less diverse than what we are used to in the west.
The way Urdu novelists create a setting is simple yet colloquial. It talks to the readers. The sensory description goes straight to the mind to create an imaginary picture in front of the eyes. The romance between the boy and girl is well-liked by women and this way their expectations turn really high. They start to live in their imaginary world.
Possibly a lot of western romance sub-genres are alien to, and would be unwelcome in, conservative Muslim Pakistan, but for many romance writers the Pakistan market could be worth looking more closely at.
With 100 million people online there's an opportunity to reach Pakistani readers without a publishing partner in the country itself, and just maybe some authors and publishers can tap into this potentially exciting market.
---
Unbound reprints 70,000 copies of TikTok hit Cain's Jawbone
Finally today, a follow up to a TNPS post from ten days ago, when I took a look at how BookTok, the literary arm of social media platform TikTok, is pumping up the publishing industry by reviving backlist titles.
Today the UK trade journal The Bookseller that the publisher of the book in question has had to run off a further 70,000 copies to keep up with demand.
Read more here.