For all the headwinds this quarter, Storytel remains in a league of its own, navigating uncharted waters, and boldly going where no audio-focussed subscription service has gone before. Next stop: the Metaverse.
---
For the longest while it seemed like everything Jonas Tellander touched turned to gold, but this week some investors were spooked by the arguable misses described in the January-September Interim Report, and more misses being lined up for Q4.
Is Storytel in trouble? Not a bit of it. The headwinds were entirely predictable, and, dare I say it – predicted:
But there's nothing here to worry about unless, as a public company, you have chancer investors buying in short term for the ride that play the markets like a candle in the wind.
Storytel's core investors are solid and understand Tellander's vision, so stock jitters are neither here nor there. Just ask Amazon.
But expect more of the same in January when the Q4 results come in. Storytel ambitiously forecast crossing 2 million subscribers by end 2021, and that now looks improbable, with revenue forecasts also in line to miss aspirations.
Per past TNPS analysis, the coronavirus boost was not evenly spread and was not to be relied upon.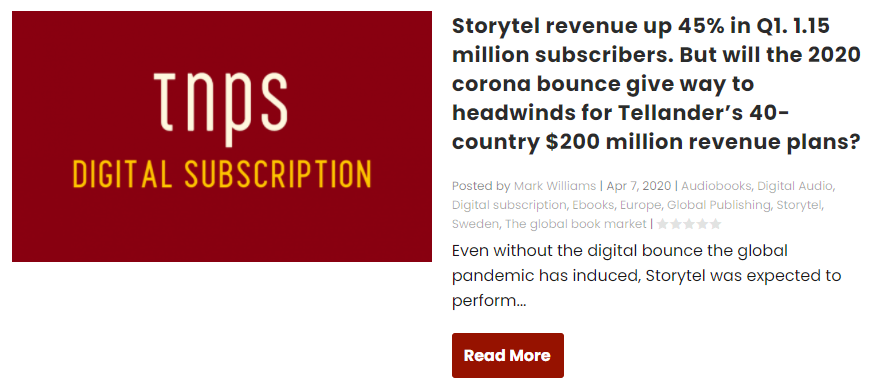 In less mature markets the plague hit consumer pockets, resulting in underperforming Storytel markets in Latin America missing both revenue and subscriber hopes.
In India the revenue is so small that the focus is on subscriber numbers, which seemed a sure-fire hit, and would have been were it not for the Indian banking system playing games with payments for half the year, resulting in many Indians being unable or unwilling to commit to monthly subscriptions that are the lifeblood of Storytel's revenue side. Fortunately the matter has just been resolved in India this week.
Tellander has long said he expects new markets to take five years to break even, but even so there was a hint of apologia in the Interim Report's explanation that only four markets outside the Nordics – Russia, Poland, Netherlands and Turkey – were topping 100,000 subscribers. MENA has not yet reached that figure but is singled out for a performance mention.
And to rub salt into the wound Tellander had to announce that the much-vaunted partnership with Spotify, planned to happen in Q3, will now happen sometime inthe first half of 2022.
Not mentioned in the Interim Report was Storytel Indonesia, slated to launch before end of year.
While there's still seven weeks to go and it could still happen, if the Indonesia launch is pushed into 2022 it will be another small blow to the Midas touch image Tellander has painted these past few years.
For all that, the Interim Report remains upbeat and rightly so.
One bright note came via Google, which is about to lower its in-app fees from 30% to 10%, which will save Storytel SEK 1 million ($114,500 ) per month ($1.3 million per year) in payment fees, but it looks as if the chancer investors didn't read that far.
For all the headwinds this quarter, Storytel remains in a league of its own, navigating uncharted waters, and boldly going where no audio-focussed subscription service has gone before.
And, to end this post with Jonas Tellander's opening remarks in the Interim Report, the Storytel CEO has still more bold ambitions:
The audio trend is not a whisper anymore, nor just a soft voice in your ear – it is roaring across the world, penetrating, integrating with and enhancing our past, present and future experiences. Audio is even a key component, as self-evident as visuals, in the creation of virtual worlds and convincing and compelling future services in the metaverse, since all physical places and services have corresponding audio spaces, which are unique and authentic assets – just like the story or the audiobook narrator's voice. And nothing conveys the combination of emotions and presence as strongly as audio.
Read the Interim Report in full in English here.