What will it take to make publishers join the dots and take this incredible market of 590 million internet users seriously?
---
For any number of solid reasons, from colonial legacy to low literacy rates to poor retail infrastructure to racial stereotyping, global publishers have largely looked the other way when the topic of African publishing came up.
Sadly the same has to be said for many (not all) African publishers, who have historically regarded their own country and neighbouring countries as educational textbook markets and little more.
The sad reality is that many of the great names in African literature – and there are far too many to even attempt to list here – made their published names on other continents – usually North America or Europe – and have had to fight to see their works available on their home continent, and even then only in a colonial-legacy language.
But that's changing fast, and digital has led the charge, making printed books available to order online, and making books available to be downloaded digitally in colonial-legacy and indigenous languages.
But for publishers on their continent as beyond, the widely-held misconception that the internet has yet to reach Africa has held back publishing thinking about the immense opportunity that is a continent of 1.3 billion people.
So many people. If only they had smartphones and the internet like us First World folk…
And to be fair, Africa has been behind the curve when it comes to internet adoption. Back in 2011 Africa has just 118 million people online. That's less than double the UK, for the entire continent. No wonder publishers let their attention wander elsewhere.
But fast forward 2021 and there are substantially more than a half billion internet users on the African continent, each by definition using a device that could also be used to download digital books or to order printed books.
Of course, having internet access is only half the battle. Digital books and online-ordered print books need to be affordable and, more importantly, available. But Rest Of The World publish-think still routinely involves invoking territorial restrictions to ensure books don't fall into the hands of undesirable readers in far-flung lands.
That needs to change, and will, as publishers get to grips with the reality that Africa is one of the most exciting emerging markets on the planet, and that some countries have way more people online that much of Europe, as the first of our Top 21 African Internet Users charts shows.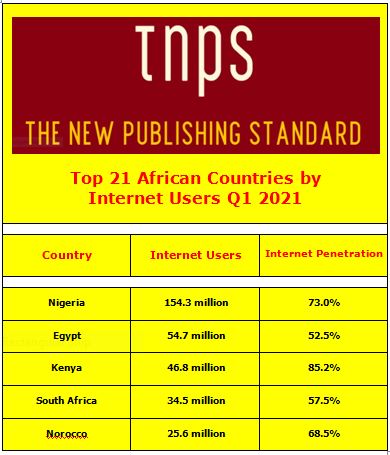 Nigeria is in fact the fifth largest country in the world by internet users, while Egypt is just a couple of hundred thousand on-liners short of jumping Italy in the Top 21 globally.
Kenya falls just outside the Top 21, but is way ahead of Spain's 42 million internet users and of Canada's 33.2 million people online. South Africa also has more people online than Canada.
In 5th place Morocco's 25.6 million internet users is more than Australia has online, and Algeria and Tanzania also have more people online than Australia, while Ethiopia will almost certainly have more at the next tally later this year.
Uganda has more people online than the Netherlands, while the Democratic Republic of Congo has already equalled the Dutch tally, but is only at 45% internet penetration.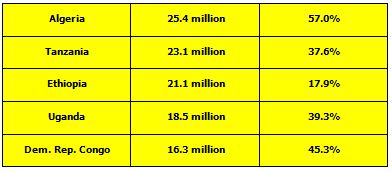 Bringing up the second half, we see Ghana chasing the Netherlands with 14.7 million people, and still only at 46% penetration, and close behind those are Sudan, Mali, Cote d'Ivoire and Zambia.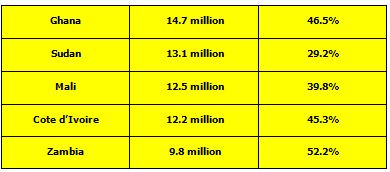 The final six in the chart begin with Senegal, just a fraction away from Zambia, and where we should pause a moment to consider this salient fact:
Sweden, home of Storytel, Nextory and Bookbeat and widely regarded as one of the most advanced digital books markets, has fewer internet users than any of the 16 African countries listed so far.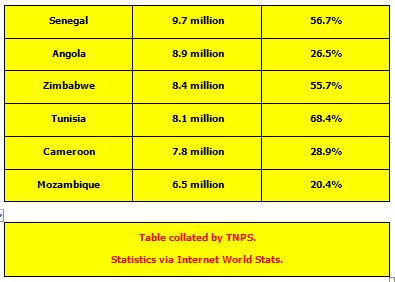 And while on the comparisons, falling just outside the Africa Top 21 chart comes Rwanda (5.9 million online), Libya (5.8 million) and Burkina Faso (4.6 million), all of which have more people online than Ireland (4.4 million) or New Zealand (4.3 million) – both successful book markets in their own right.
Digital offers unparalleled opportunities for African readers and global readers wanting to read African literature, for African publishers wanting to reach other African and global markets, and for global publishers to reach Africa.
The literature exits. The readers exist. The internet users exist.
What will it take to make publishers join the dots and take this incredible market of 590 million internet users seriously?