Sweden charges $20 a month. Compare Turkey where charging $4.20 brings only 21% of the Sweden revenue, or India where the lowest subscription option brings in just 13% of the Swedish rate.
---
Storytel Turkey marked its third anniversary with a briefing by country manager Berk İmamoğlu that reported Q1 2021 has seen 4,205,000 hours of consumption, putting 2021 on target to easily exceed the record-breaking 2020 figure where consumption rose 112% to 8,640,000 hours.
İmamoğlu tells us Storytel Turkey is the fastest growing of the 25 Storytel markets, although Turkish content as yet makes up only a small fraction of the Storytel Turkey catalogue. Currently subscribers can access 4,000 audiobooks and 2,000 ebooks in Turkish alongside 100,000 audiobooks and 125,000 ebooks in English.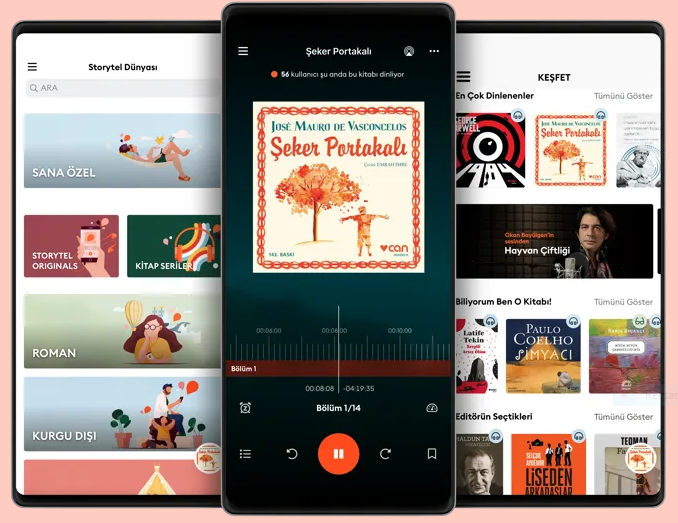 This up from 3,000 Turkish audiobooks, 80,000 English-language audiobooks and 120,000 English-language ebooks in October 2020. It was only in late 2020 that Storytel Turkey began seriously introducing ebooks to the mix, coinciding with the launch of the Storytel ereader in that country.
The Storytel ereader device is gaining momentum, with a recent launch in Iceland and plans to launch it in the Netherlands shortly, and in other Storytel markets at some point. That's important as a sign that Storytel is seeing value in the ebook section of its catalogue, although audiobooks remain the core focus and in brand-recognition terms are the driver for the company.
Storytel launched in Turkey in May 2018 as Storytel's twelfth market, with just 300 Turkish audiobooks in the catalogue. That came about after Storytel acquired the Turkish audiobook operator Seslenen Kitap, then Turkey's biggest audiobook producer, in October 2017.
That reflects a common pattern in Storytel's global expansion, whereby Storytel acquires the biggest competitor in the target market, as we have also seen in Bulgaria and most recently Israel. That's a policy also followed after launch, as in the UAE where Storytel acquired its biggest rival Kitab Sawti having already established a presence in the country.
There is no breakdown of relative consumption of Turkish and English-language content, and no breakdown of audio and ebook consumption. It's a given most consumption will be in Turkish and as Storytel is audiobook-focussed most consumption will be audio in every market, but especially here where ebooks are a late addition, but my understanding is that when Storytel reports, as in this instance, 17.7 million hours of audiobook listening over the three years Storytel Turkey has been operating, this includes ebook consumption converted to listening hours.
Storytel usually charges TYL 34.99 ($4.20) for a subscription but is currently offering a third anniversary discount to TYL 29.99 ($3.60).
Turkey is also among five markets (Finland, Mexico, Spain, Russia and Turkey) where in Q2 Storytel will be introducing Limited Time subscription options (currently being trialled in Finland) whereby subscribers pay less for a set number of hours of consumption per month rather than the standard unlimited consumption model.
This reflects one of the bigger challenges Storytel faces as it expands globally: having to localise its prices to local spending power. Of course localised costs also diminish, meaning a market like Turkey might be notionally more profitable per unit download than in homeland Sweden, where Storytel can command SEK169 ($20).
The problem being the publishing industry's obsession with revenue metrics.
Put simply, 100 subscribers in Sweden paying $20 brings in $2000 whereas 500 subscribers in Turkey brings in only $1,800. Impossible to say from either number in this example which market actually makes the most profit for Storytel, which is ultimately what business is about.
Given so many industry commentators, as we see with the print v. digital debate, value cold, hard revenue above all else, this could present perception problems for Storytel down the road.
Not so for Storytel CEO Jonas Tellander, who clearly understands this issue and is happy to chase the long-term potential of a market.
Consider: Sweden with 9.7 million internet users has no room to grow, being at 96% internet penetration. It's a highly competitive market and while Sweden can deliver impressive cold revenue charging $20 a shot to Swedes who buy into the service, the expenses – not just the obvious higher production costs and overheads associated with a country like Sweden but also the marketing costs to stay ahead of competitors – just how much room is there when it comes to profit?
Compare Turkey where charging the regular $4.20 brings only 21% of the Sweden revenue but where there are 69 million people online – a bigger prospective market than the UK – and only at 83% internet penetration.
Now compare India where Storytel's minimum charge is just $2.70. It seems like a hiding to nothing – India's lowest rate is just 13% that in Sweden.
But Tellander has done his homework. India may be at just 53% internet penetration, but that equates to 749 million people online.
Storytel's long-term success looks assured, but extrapolating real global revenue based on the number of markets rather than what they deliver will leave some industry commentators disappointed.