Typically attracting 500,000 visitors, the Taipei International Book Exhibition (TIBE) was among the world's first Covid-19 publishing casualties in 2020. This year the in-person element of the event was scuppered just as the event launched, as the pandemic continues to wreak havoc with the global publishing calendar.
---
Launching January 26, this year's TIBE was intended to be a hybrid in-person and virtual event, but the pandemic had other ideas.
With bitter irony the 2021 incarnation, with the theme "Reading in the Pandemic", is forced wholly online one year after TIBE became, in the words of TNPS at the time, "the first major publishing casualty of the coronavirus".
Fortunately for TIBE the organisers had the foresight to aim for a hybrid event, and were able to pivot that to a fully online event when, on January 20, the Taiwan authorities introduced new restrictions on large events as Covid-19 cases again soared.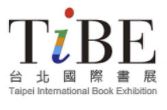 From a statement on the TIBE website at the time:
Although Taipei Book Fair Foundation has prepared strict precautionary measures and has been looking very much forward to holding the first physical book exhibition in 2021. Unfortunately, following the latest guidelines for large-scale public gathering issued by the Central Epidemic Command Center, the organizer Ministry of Culture decided to call off the physical event to ensure public safety.
Originally scheduled to run January 26-31, TIBE offers event organisers elsewhere around the world a lesson in turning adversity to advantage.
Having built in to the event a digital element it was a relatively simple move to extend the digital event when the in-person element became untenable. And TIBE did it with style.
From a five day event TIBE is now a four-month event, running through until May 31.

Meanwhile in the less-adaptable west it seems digital options largely remain last-resort measures, or more likely ignored altogether.
We've seen the USA's Book Expo completely disappear rather than even attempt to adapt.
While the London Book Fair shifted its dates for an in-person event to end-June, as if the crisis in the UK, currently in total lockdown, is suddenly going to evaporate over the next 5 months and the world's publishing professionals are going to flock to London this summer as if nothing happened.