Big Bad Wolf is no stranger to the United Arab Emirates, but its previous in-person visits were to Dubai. This time the visit will be virtual, and centred on the Emirate of Sharjah, home to the IPA President Bodour Al Qasimi and home to the Sharjah Book Authority .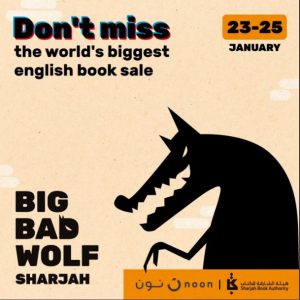 Per the promotional poster, Big Bad Wolf Sharjah will be a three-day virtual event running January 23-25 on the noon e-commerce platform in partnership with the Sharjah Book Authority.
It's not clear if there will also be a virtual or real-time regular Big Bad Wolf Dubai event this year.
Big Bad Wolf began its online venture last year using an Indonesian e-commerce platform but then started launching its own dedicated sales platforms later in the year, but then ended the year on Shopee.
More on this as the story develops.