"Building a bridge to equality, one mother tongue at a time."
---
Based in New York and with offices in Kigali, Rwanda, and Port-au-Prince, Haiti, the award-winning literacy organization NABU launched its free reading app in Kenya this week, bringing localised reading for children in English and Kiswahili to anyone with access to a mobile device.
NABU argues that,
Children who see themselves reflected in the stories they read are much more likely to finish school, to love learning and to go on to lead successful lives.
NABU's goal:
(To disrupt) the cycle of poverty by leveraging technology to publish children's books for free on digital platforms in mother tongue languages.

The aim with the Kenya launch is to add more than 150 Kiswahili titles to the app alongside the current 1,000 or more titles in English, French, Kinyarwanda, and Lingala.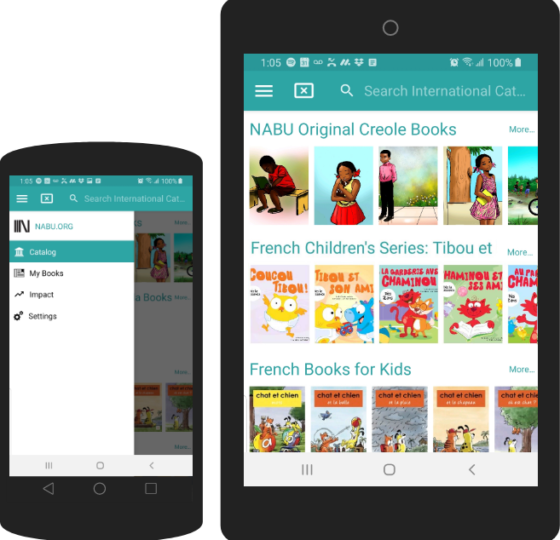 Explained Rupert Corbishley, Regional Education and ECD advisor of the Aga Khan Foundation,
NABU's mission to drive locally written and crafted children's storybooks free to all on a variety of platforms is something I applaud. I believe NABU will be a welcome new addition to Kenya's collective effort to further grow our deep history of storytelling and culture of reading in all our children.
NABU Executive DIrector, Tanyella Evans added,
Research shows that children who have access to books in their mother tongue at an early age make the bridge to reading in English and other languages. We want to share beautiful, engaging stories where children can see themselves reflected in the pages, so they grow up to be confident readers.
As an educator here in The Gambia on the other side of the continent I can vouch for the desperate need for such content. Here there is virtually no locally-produced content in any language reflecting the lives children lead.
NABU Rwanda has seen over 85,000 downloads in 24 months, and has 10,000 children reading every day. NABU's Kenya Program Manager, Beryl Oywer, said:
With the rise in internet penetration and access to smartphones in Kenya, children have been exposed to technology and are more likely to grow into autonomous and successful technology users. Access to reading materials will provide children with the basic skills in which they will acquire competency in order to be successful in school and develop skills critical for higher-order thinking.
With 46.8 million Kenyans online the country will be NABU's largest potential market, and the app will compliment the work of the Kenya-based edutech operation eKitabu.