While many in the publishing industry are still struggling to come to terms with the current event-imposed New Normal, others are modelling strategies to better manage the second-wave New Normal and the post-pandemic Next New Normal that is yet to come
---
Proposed by Carlo Carrenho, Klaus-Peter Stegen and Rüdiger Wischenbart (together with Premium Partner Publishers' Weekly), the Reboot Conference, which will run 1300 to 1900 CET (1100-1700 GMT) on Tuesday October 13, is intended to be,
A fact-finding process and virtual conference about key market lessons for the publishing industry in the post-pandemic world.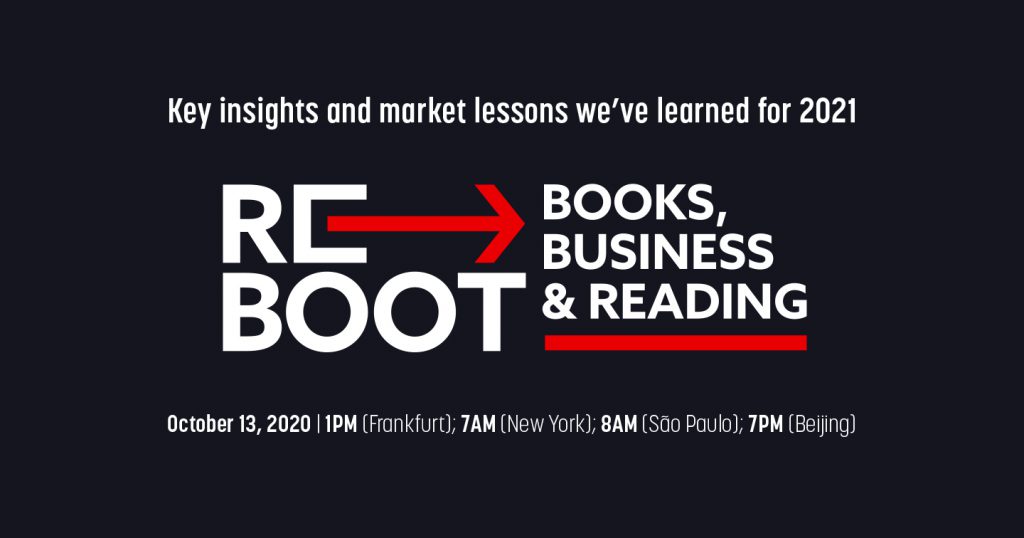 Per the press release, the Conference will bring together,
Key actors and thought leaders from both large as well as small independent publishing and bookselling organisations, infrastructure providers and innovators to assess the status of the international industry, and share perspectives & strategies for a 're-boot'. The debates will build on a thorough fact-finding process in the Preparations Tracks, with a rich body of data and case studies on recent market developments and strategic lessons as input for 4 thematic workshops.
The Preparation Tracks have a twofold objective:
First, to kick-off networking and interaction long before the conference
Second to build a rich, detailed, and referenced body of documentation, available exclusively to ReBoot participants and organised along the conference's four thematic pillars
The Preparation Tracks will take three approaches
Collect and organise the best available data on sales, consumer trends, media consumption and related media developments
Send all interested ReBoot participants small sets of structured questionnaires, in order to allow them to share additional data from their specific angle, as well as to help to collectively build learning curves through case studies
Hold compact online workshops, well prepared and documented, each around a couple of hours, pushing hard, with professional moderation, for direct interaction between participants, backed up by digital tools to facilitate follow-up exchanges between participants
The workshops, which will run 1600-1800 CET (1400-1600 GMT) on Thursday 17 September, Friday 18 September, Friday 25 September and Tuesday 29 September, single out four "thematic pillars":
Consumers: Keeping eyes and ears on books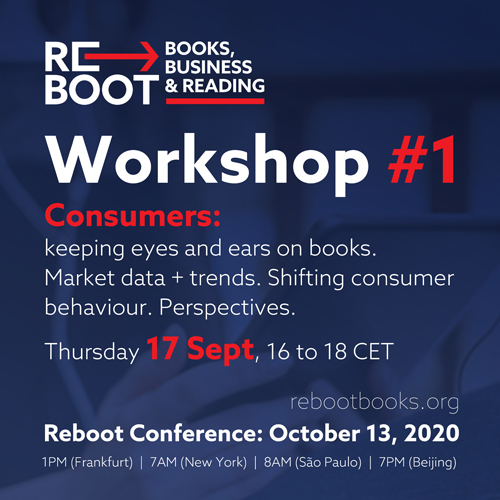 Publishers: Running virtual operations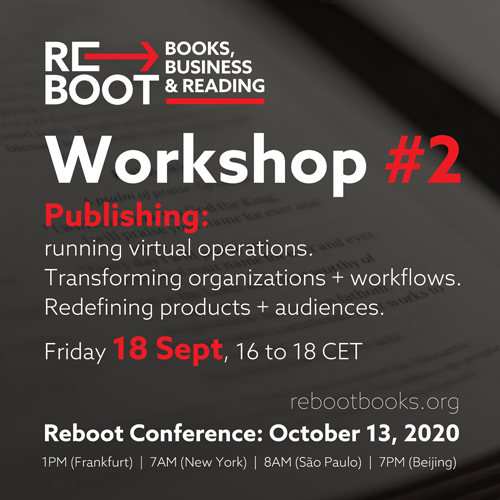 Suppliers: Building hybrid & cross-media fulfillment process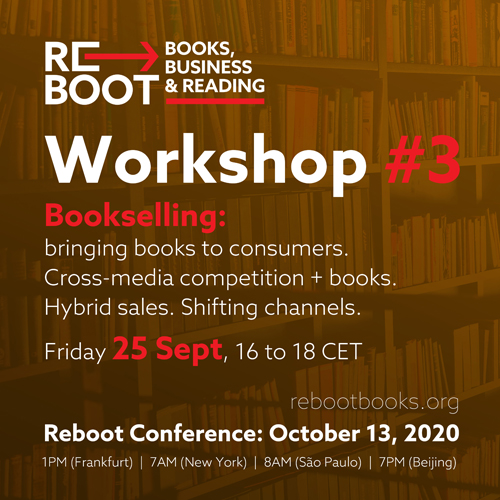 Bookselling: Bringing books to consumers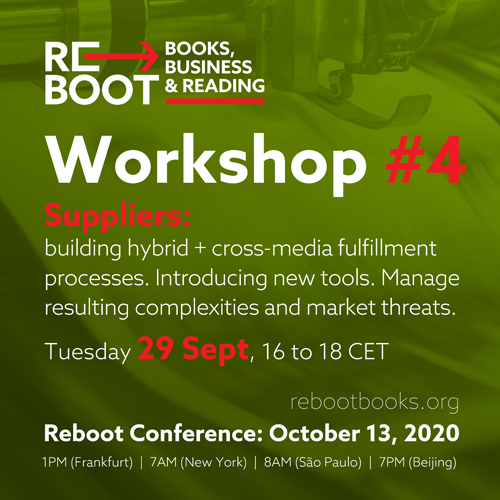 ReBooot Conference speakers include:
Jesús Badenes (Planeta, Spain), André Breedt (Nielsen Books, South Africa/UK), Nitasha Devasar (Taylor & Francis, India), Eva Ferri (Editioni E/O, Italy), Rosie Goldsmith (UK), Emma House (UK), John Ingram (Ingra, USA), Knut Nicholas Krause (KNK, Germany), Carmen Ospina (Penguin Random House Grupo Editorial, Spain), Marcos Perreira (Sextante, Brazil), Hakan Rudels (Bonnier, Sweden), Michael Tamblyn (Kobo, Canada).
Describing the ReBoot Books Conference, Rüdiger Wischenbart explained:
In fall, publishing professionals from around the world will want to make a first status of the fallout from the Covid-19 sanitary crises, share insights and lessons, and review strategies to overcome the crisis. ReBoot is the forum for this debate.
Carlo Carrenho stressed the international remit of the conference, saying,
We need multiple perspectives, from Brazil to Germany, from Sweden to India.
While Klaus-Peter Stegen said,
Everyone in the book business needs to make well informed decisions about the future: where to invest, how to organise for a hybrid publishing workflow. Reboot is the place to discuss the available options.
Tickets for participation in both the Preparations Tracks and workshops, and in the virtual conference cost 149 euros. However TNPS readers can get a discount of 60 euros, bringing the ticket price to just 89 euros, using this code: TNPS@Reboot
Details and registration here.
Follow ReBoot Books on twitter: @rebootbooks.
Contact emails for the ReBoot Books Conference organisers:
ruediger@rebootbooks.org; carlo@rebootbooks.org; peter@rebootbooks.org