Fênix Editorial ("both a publishing house and a technology company") joins Bookwire ("service, software and personal advice in the distribution and successful marketing of digital books") at EDRLab
---
With 58 members, ranging from publishers like Editis and Hachette Livre (France), distributors like Bokbasen (Norway) and Numilog (France), tech providers like Bookeen (France) and Canada's De Marque, retail platforms like Youscribe and Youboox (both France), and digital libraries like the Bibliothèque nationale de France, China's Shanghai Library, Koninklijke Bibliotheek (Netherlands) and Sweden's Stockholms stadsbibliotek, EDRLab is a powerful force in the digital reading tech arena.
Founded in 2015 in Paris, EDRLab (European Digital Reading Lab) is a not-for-profit organisation "working on the deployment of an open, interoperable and accessible digital publishing ecosystem in Europe."
This week EDRLab has announced on twitter that is has two new members: Germany's Bookwire, and Brazil's Fênix Editorial.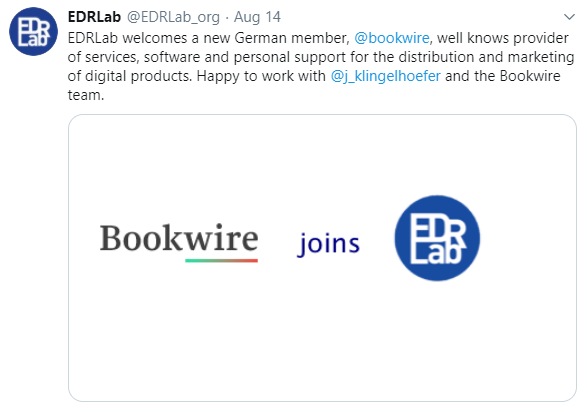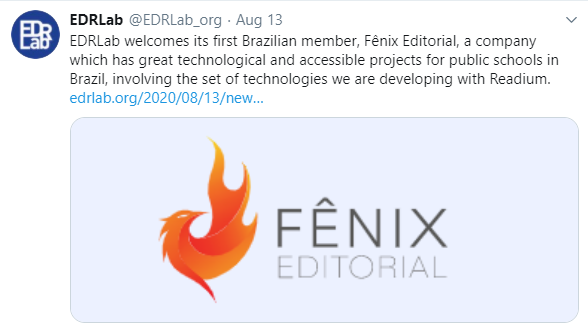 Follow EDRLab on twitter: @EDRLab_org
Bookwire of course needs no introduction to regulars here on TNPS. Follow Bookwire on twitter: @bookwire
Fênix Editorial (not on twitter, it seems), is described in the EDRLabs introduction as "both a publishing house and a technology company", and in 2019 won the London Book Fair's international award for Excellence in Innovation.