StreetLib is the publisher behind The New Publishing Standard. While TNPS is not a StreetLib promotional vehicle, StreetLib publishing news is as much publishing news as any other.
As ever when reporting StreetLib news, we re-print the StreetLib Press Release in full below without further TNPS commentary.
---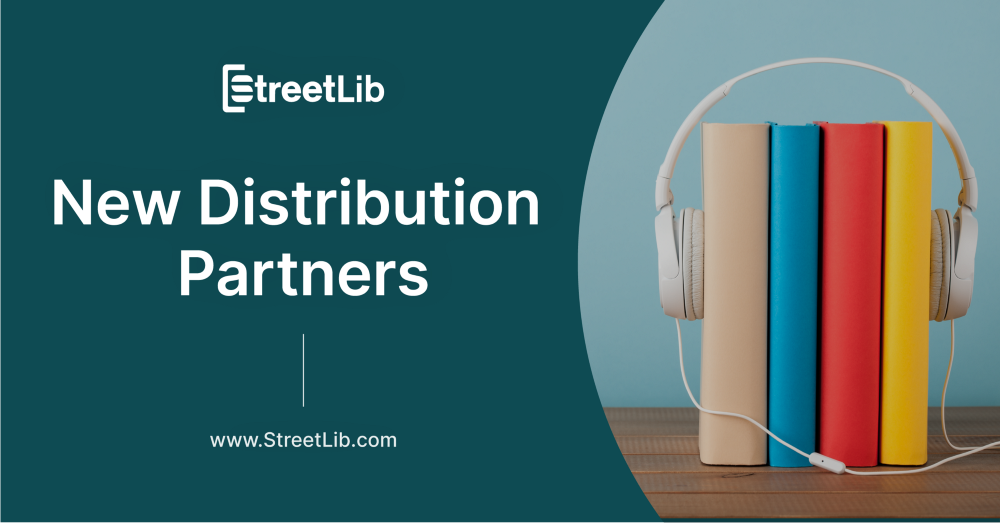 [PRESS-RELEASE] StreetLib expands its distribution with 4 new partners and adds audiobook distribution to Scribd
Milan, Italy, July 24th 2020
The cloud publishing platform StreetLib has added a raft of new distribution partners this week as it continues its mission to be the world's leading one-stop shop for publishers any size, anywhere, wanting to reach a truly global audience.
StreetLib began life as an ebook company back in 2006, before Amazon's Kindle made ebooks fashionable, and today facilitates the production and gateway distribution of ebooks, POD, comics, magazines, audiobooks and online reading, with an unrivalled portfolio of 70+ partners that offer reach through hundreds of retail and subscription consumer points and to over 50,000 library consumer points worldwide.
Today's announcement takes in France, Brazil and the USA and involves global reach across more than 70 countries, as StreetLib CEO Giacomo D'Angelo explains:
We're delighted today to welcome Bibliotecha, Izneo, Scribd Audio, Tocalivros and Youboox to the StreetLib distribution platform network.

StreetLib is perhaps best known for its ebook and audiobook distribution, but comics are also an important part of our operation, and with the addition of Izneo to our distribution portfolio we bring access to one of the leading French comics platforms in one of the world's leading comics countries. In fact, in France and Belgium comics, or bandes-dessinées, are reverently known as "the ninth art".

Izneo, founded back in 2010, offers comics, graphic novels, manga and webtoons in French, English and German, available as à la carte retail or subscription. StreetLib will be bringing new Italian comics content to the Izneo platform. Publishers anywhere in the world can distribute comics content to Izneo via StreetLib, and we expect the new generation of comics producers in francophone Africa will be especially interested in this new reach.

We stay in France with an African connection to introduce our next new partner, Paris-based YouBoox. Founded in 2011, Youboox is now one of the leading digital books platforms in France, that has also extended its reach to Tunisia in North Africa. Next to Brazil, where we are delighted to be joined by one of Brazil's leading audiobook operators, Tocalivros.

With 149 million people online, Brazil is one of the most exciting prospects in global publishing, and the Brazilian audiobook market is performing outstandingly well. Tocalivros strengthens our presence in this exciting market and brings yet more audience opportunity to publishers both in South America and worldwide.

We stay with audio for our next two partners, where I want to make a special mention of our friends at Findaway, who we are working closely with to deliver StreetLib titles to Bibliotecha and Scribd.

Regular StreetLib users will know we've long been partnered with Scribd for ebook distribution and value the global reach Scribd brings. With Scribd Audio now available via Findaway it means our clients can maximise the Scribd experience via the StreetLib dashboard.

The same for our final new addition today, Bibliotheca, where again we have partnered with Findaway to make sure our StreetLib audiobook clients have the convenience of our one-stop dashboard to reach this exciting US-based global library platform that reaches over 70 countries across six continents.

StreetLib. Because publishing is a global affair.

About StreetLib

StreetLib is a cloud publishing platform and global gateway to the $143 billion plus international book market, over 70% of which is happening outside the USA, for publishers big and small. Whether you are an independent author or a multinational publisher, StreetLib offers unrivalled global reach through our worldwide network of retail, digital library and subscription service outlets. StreetLib distributes ebooks, audiobooks, comics and print-on-demand paperbacks.

Contact us at info@streetlib.com