When news broke on June 12 that Netflix Nigeria was to adapt some classic African literature for streaming television it was very much a watershed moment for the continent, and raised a couple of angles worth exploring here.
Let's start with the easiest one.
The announcement was made, among other places, on twitter, where it is a pinned tweet still. And of course across all social media.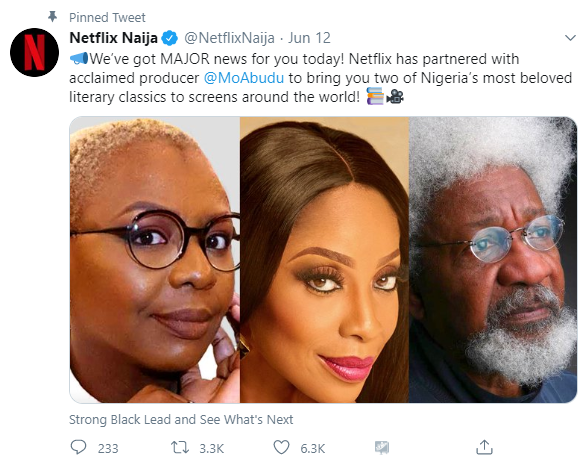 That will be the same social media that many African publishing stakeholders regularly denounce as the enemy of the industry.
Not to get into too much detail, but all too often we see – still – spokesfolk for the continent's publishers complaining that social media and smartphones are tearing the industry apart, because if people are on social media, or even just have a smartphone in their hands, they are not reading.
The argument falls down on so many fronts, but perhaps most of all on this assumption that somehow books and social media are parallel worlds that never can meet.
So take a good look at those 6.3k likes and 3.3k retweets on the above twitter announcement – this after just five days – and note that this is people on social media – just one of many social media options – excited by this news.
As and when the adaptations are complete and are streamed – not just across Nigeria but around the world – millions will probably encounter these authors and their literary works for the first time and many will want to buy the book.
And that begs the question, are Africa's publishers ready to meet this demand?
Because while not for one second wanting to echo that classic faux pas when someone asked "Does Nigeria have bookstores?" we must with all honesty say the bookselling infrastructure in Nigeria and across the continent is far from adequate at the best of times, and publishers might want to think seriously about how not to a) disappoint fans and b) miss out on a lucrative opportunity on the horizon.
Let me offer one example to illustrate the point. This was TNPS as this year began.
Running the headline Someone forgot to tell Witcher fans about "Screen Fatigue" and the "Attention Economy". Publisher struggles to keep up with "phenomenal" sales across print, ebook and audio, I wrote in TNPS:
This week comes news from Orbit, publisher of Andrzej Sapkowski's The Witcher series of translated-from-Polish books, that they've been negatively impacted by Netflix screening its adaptation of The Witcher on its streaming service.

Orbit didn't have enough books printed to meet demand, and has had to dash off an extra half million copies. And that is quite apart from the ebook and audiobook sales, all of which are said to be "phenomenal."
It's a similar story for pretty much any book that gets adapted for the big or small screen, but what makes it all the more exciting with the digital streaming service Netflix is that Netflix is available in all but four countries in the world, meaning the potential audience is quite phenomenal, and many will be encountering Africa's literature for the first time.
Making sure these titles are available to meet that demand is something the rights-holders need to be thinking about now, and with a focus on digital, because around much of the world accessibility to print books can be challenging, and especially so across Africa where demand is likely to be especially high.
Digital can certainly help there, but even with digital the reality is that there is no book equivalent of Netflix, accessible all around the globe, and unlike Netflix, the book will not be as easily affordable.
Savvy publishers and rights holders have the opportunity to remedy both of these problems with a little forward planning and lateral thinking. Pan-African digital distribution may not be easy, but is possible, and with that in place publishers need to address the reality of territorial pricing.
Make these titles available digitally at locally affordable prices and publishers will encounter a massive new audience of booklovers that will go on to buy other titles by the author and other titles from the publishers' catalogue.
And while I'm addressing here the African titles singled out by Netflix Naija on this occasion, that holds for any title that may be being streamed globally by Netflix or any other service.
Digital video streaming is just one more example of the digital advantage for publishers.