The annual Hay Festival that takes place on the border of England and Wales is the UK's biggest public-facing literary event, but this year was forced online due to the coronavirus pandemic.
Public-facing events like these are less suited to digitising than trade events, where the focus is on industry professionals, not families, but nonetheless the 2020 Hay Festival Online attracted the attention of over a half million booklovers – significantly more than the in-person attendance of past years at the real-time events.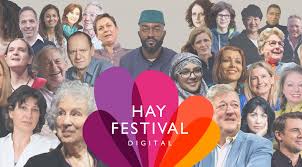 This despite very short notice to put something together and emergency fund-raising efforts to make it happen.
Parallels with trade-facing events shifting online this year do not stand too much scrutiny, as clearly the attraction of a public-facing event like Hay is the family day out and the celebrity element, alongside the chance to buy books.
But one conclusion we can safely draw from Hay 2020 is that future events, while no doubt returning to in-person if at all possible, will also have a strong digital element hereon.