When India's Prime Minister extended one of the world's harshest national lockdowns to May 3, as the country tries to ensure the coronavirus tragedy in West Europe and the USA is not replicated, it became clear publishers needed to adapt, and fast.
Penguin Random House India did so in style, launching a 400-title ebook store within the Kindle India store on Amazon, to make sure eager readers could still access the books they want to read.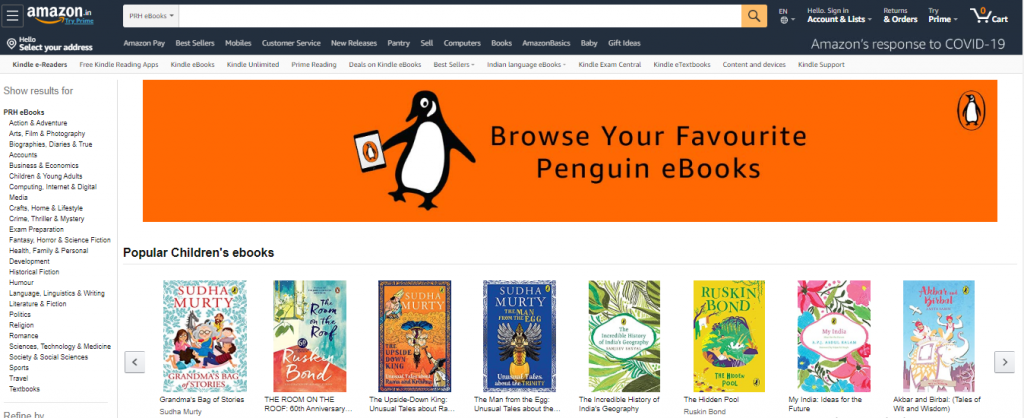 In a press release, PRH India's senior vice president marketing, digital and communications Niti Kumar said:
India is an up and coming market in ebook consumption and we are confident that with over 500 million internet users, there is definite potential that more people can take to reading ebooks.

Initiatives built on ebooks can bring the spotlight on a mode of reading, which in addition to being safe and easily accessible, is also more affordable and comes with additional features that make reading more pleasurable and informational.
The press release adds in broader terms:
In a time when so many people find themselves housebound, reading has come up as one the top activities they are engaging in. Getting hold of new books can pose a challenge since many e-commerce websites are prioritizing deliveries to essential products and delivery of physical books has been affected. So, in these strange and difficult times, ebooks are gaining popularity as a convenient, accessible and safe ways to keep one occupied, entertained and fulfilled.
The 500 million internet users mentioned by Kumar may come as a surprise to new readers here at TNPS, but in fact the latest numbers for January 2020 are 560 million Indians online. And the country is still only at 40% internet penetration.
Compare the USA with just 312 million online.
As the country's largest English language trade publisher Penguin Random House India pushes out 250 new titles each year and has an active backlist of over 3000 titles.
It's not clear from the press release why the PRH India ebook store features only 400 titles, given a 3,000 title catalogue. Possibly this reflects the level of digitisation PRH India has achieved thus far and the other books have yet to be made available in digital format.
I'll update this post if any clarification becomes available.