While Argentina's Buenos Aries International Book Fair is still, for now, on schedule, Colombia's FIL Bogota (FilBo) has been postponed to a date yet to be decided, as Colombia's authorities take measures to contain the spread of the coronavirus.
In a statement (auto-translated) on its website, FilBo said simply:
The Colombian Chamber of Books and Corferias, organizers of the Bogota International Book Fair, accompany and support the measures taken by the Mayor of Bogotá and by the national authorities to protect the health, well-being and life of Colombians. For this reason we have decided to postpone FILBO.

We are in permanent meeting together with the national, district government and the embassies of the Nordic countries in Colombia to make the best decision that will be communicated to public opinion as soon as possible.

Thanks for your understanding. We will keep you informed.
In Turkey, meanwhile, the Izmir Book Fair has followed a similar fate, postponed to an unknown future date. (Twitter text as below is auto-translated.)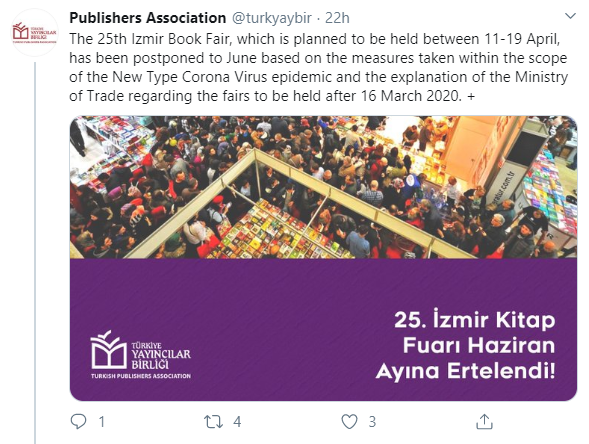 The Naples Book Fair has also been postponed, at least until October, and across the globe many smaller events are being cancelled or postponed.
In New York it looks like the final nail has been pumped into the coffin of Book Expo America, as the city bans all events of more than 500 people, but as this post goes live on the morning of March 13 Reed Exhibitions is still sitting on the fence, with a statement on its website insisting the show will go on.
Actually it's worse than that. As recently as March 10 Reed Exhibitions was blithely asserting,
We do not anticipate any changes or delays to our event.
As with the London Book Fair, Reed Exhibitions has thrown common sense and social responsibility out of the widow, paying lip-service to health and safety while guided only by its own interests.