The 2020 publishing industry calendar is being rewritten by the day as the Coronavirus crisis escalates, so the cancellation of the Paris, Bologna, Leipzig, Taipei and many other book fairs have come as no surprise, just massive disappointments.
But as just as the original version of this post was going live, calling for Reed Exhibitions to show some moral fibre and do the right thing, news broke that Reed Exhibitions had finally succumbed to the inevitable and the London Book Fair is off.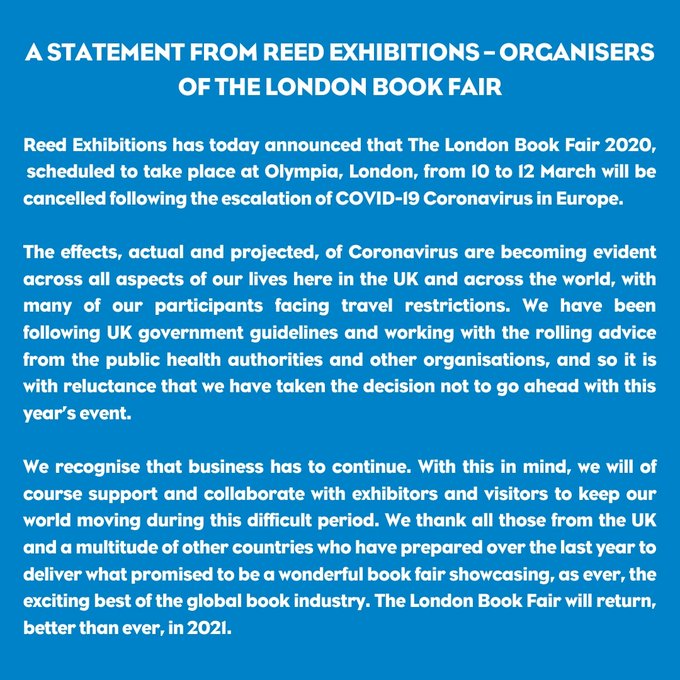 Leaving the question, why now?
It obviously was not because of concern for the staff, exhibitors and visitors. LBF had made abundantly clear it was waiting on the UK government to bar the event, rather than do the right thing itself.
Clearly the fact that exhibitors and visitors alike were voting with their feet left Reed Exhibitions with no choice but to cancel.
News earlier was that DC, the second largest comics operation in the world, has pulled out of the Seattle-based Emerald City Comic Con and all other US comics events in March, while Simon & Schuster UK, HarperCollins UK and Italy's major trade publisher Gruppo Mauri Spagnolare were out of the London event.
That's on top of the long list of cancellations announced yesterday, per the TNPS link above.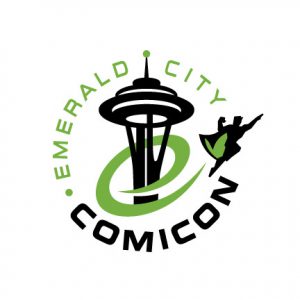 Explaining its decision to shun all events this month, DC said,
As the health and safety of our employees are always our primary concerns, DC staffers will not be attending conventions during the month of March. Future convention attendance will be evaluated on a case-by-case basis, factoring in the latest information from a variety of organizations, including the CDC, WHO, U.S. State Department and local health agencies.
The talk of putting staff and the public first sounds remarkably similar to what Reed was saying.
This from the Book Expo America site.
Please note that our events in the United States are taking place as scheduled and our status with regard to the COVID19 virus remains unchanged: the health and safety of our exhibitors, visitors and staff is our number one priority.

Currently, no federal restrictions are in place to prevent conferences, conventions, trade shows, exhibitions and travel within the United States.
The difference being, DC (and countless others) matched their words with action, taking a commercial hit to ensure the health and safety of staff, partners and the wider public.
Reed Exhibitions not so much. In fact, until this morning, not at all.
The DC decision came as WarnerMedia said it had,
suspended all international and intercontinental travel and limiting intra-continental (inside the U.S., inside Europe etc) travel to business-critical needs.
Meanwhile Dark Horse Comics is out of the Emerald City Comic Con (ECCC) in Seattle.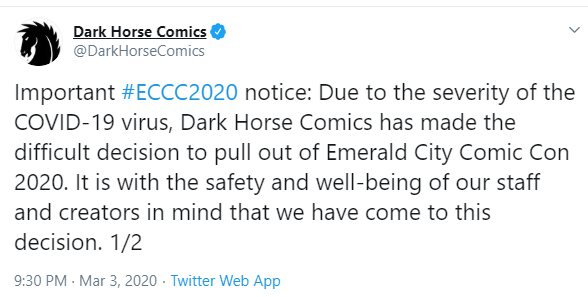 It wasn't the only one. PRH followed suit.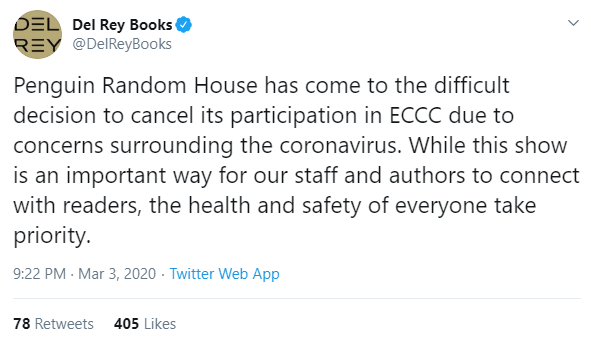 Meanwhile within and beyond the publishing industry reality is kicking in that we are in uncharted waters.
Google has just announced a total international travel ban. Other companies are following suit. Major events of every type are on hold, from motor exhibitions to pop concerts, and uncertainty means that near-future events like Book Expo America and even more distant events like the Frankfurt Buchmesse have a question mark hanging over them.
The Fespa Global Print Expo in Madrid later this month is shrinking by the day as exhibitors pull out, and is widely expected to cancel or postpone.
The Brussels Book Fair looks like it may still go ahead, at least for its core French and Dutch players, but for events with a large international component the near-future is bleak.
The bigger picture not really being discussed yet is that even at this pre-Pandemic stage is that the damage to global publishing is already severe.
India was to have been guest of honour at Paris. Now cancelled.
Sharjah was to play a major role at London. but even if that event goes ahead and the Sharjah team attend (given the Coronavirus situation in the UAE right now that has to be in question too) there will be so few people at the event as to make it worthless.
Yesterday, March 3, the World Health Organisation said the fatality rate could be 3.4%.
Of course that's a worst case analysis if no containment efforts are made.
This morning the UK government is busily revising what it told us yesterday and admitting things are worse than they thought. But as this post goes live they still cannot grasp something as obvious as that allowing international events hosting thousands of people in the largest city in the country is not a good idea.
Meanwhile many companies around the world, including those in the publishing industry, are taking financial hits and operating containment policies while governments dither and lives are put at risk.
Kudos and our heartfelt thanks on behalf of the children of the world to those companies that have put common sense and the best interests of society before profit.
To Reed Exhibitions one can only say, too little too late. It's plain to all that the only reason London Book Fair has been cancelled is because no-one was going to attend. You've lost our trust.
But there is an opportunity to put things right.
Reed Exhibitions, it's plain to see that the global crisis is not going to be sorted by May.
Now is the time to claw back some of the respect and integrity lost this past week, and postpone Book Expo America now at least until the end of the year.