The French government has responded to the growing threat of a global Coronavirus pandemic by barring all public gatherings of 5,000 people or more in a confined space. The Paris Book Fair typically attracts 150,000.
While the decree hasn't named the Paris Book Fair per se, and the government has said the decree is subject to revision as the situation evolves, for all practical purposes the event is now days away from a formal postponement.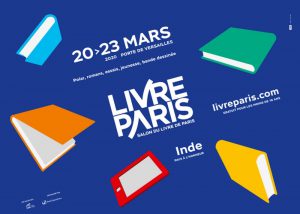 Per a report here at TNPS yesterday, most of the American exhibitors and agents heading for London Book Fair have pulled out, leaving the London Book Fair's fate on a knife edge –
but the British government, led by Boris Johnson, has yet to decide on a response to the threat of a global pandemic.
In typical Boris Johnson style, the British PM said on Friday that he would hold an emergency meeting – in three days time.
At that meeting Johnson may have to face reality and issue a similar decree to that of the French government.
Per my commentary in TNPS yesterday regarding the US exodus from the London Book Fair,
It's not hard to fathom why. The World Health Organisation has just raised the warning level to its highest. The world is on the brink of a global pandemic. And the London Book Fair is inviting 25,000 people from around the world to cram into a closed environment for three days in a city of 8 million people, and then fly home.
For the Paris Book Fair organisers the decision has been made for them. The event easily meets the decree criteria, and with the event just twenty days away and now banned unless and until the government reverses its decision, the obvious next step is to formally postpone.
An announcement is expected early next week. Meanwhile it's not clear if exhibitors and other parties have been cancelling on the scale of London, but those that haven't already done so will no doubt take the government decree as their cue to do so.
Previous book fair casualties of the Coronavirus include the Taipei International Book Exhibition in Taiwan –
Italy's Bologna Children's Book Fair –
and also in Italy, Milan's Cartoomics comics event.